Laser Treatment
Forever Young BBL
---
A New Approach to Younger Looking Skin!

Sun damage, acne, and the natural progression of aging all leave distinct and undesirable marks on your skin's tone and texture, all of which make your skin look older than it actually is. Forever Young BBL™ from Sciton® promotes younger-looking skin by correcting sun damage and preventing the signs of aging before they set in. This broadband light technology uses light energy to boost your body's natural ability to fight redness, discolored pigmentation, brown spots, and scarring by increasing collagen production. Forever Young BBL™ is proven to rejuvenate genes and aging skin cells to result in a smoother and brighter complexion.
Benefits
Treats sun damage, acne, visible aging, and rosacea
Able to treat hard-to-reach areas, such as the face, neck, chest, hands, arms, and shoulders
Non-invasive technology
No downtime required
Candidates
Forever Young BBL™ can address the effects of sun damage and aging without the need for surgery. Candidates for Forever Young BBL™ experience insecurity due to skin texture and tone irregularities, acne, rosacea, fine lines, and wrinkling. Forever Young BBL™ can be performed as a preventative procedure or after the effects of aging have already set in. This technology is suitable for almost all individuals and skin types. Patients should have realistic expectations and be aware that it may take more than one treatment session to reach optimal results.
Procedure
Forever Young BBL™ is the most powerful intense pulsed light (IPL) device on the market and can aid almost any skin concern on virtually any part of the body. This laser uses photothermal energy to gently heat both the epidermis and dermis of the skin to stimulate the regeneration of cells. This regeneration improves skin tone, texture, elasticity, and pigmentation. Forever Young BBL™ uses an integrated, thermo-electrically cooled sapphire crystal to keep the treatment area cool and ensure a comfortable procedure.
---
Recovery and Results
Forever Young BBL™ allows for a refreshed, rejuvenated, and youthful appearance with no surgery and no downtime. Skin tone and texture will be noticeably smoother and more even after just the first treatment.
You may experience some initial darkening of your skin's pigmentation at first, but this discoloration is temporary and will dissipate after a few days when the damaged skin sloughs off. You may require more than one initial treatment, depending on your skin type and concern. Most patients receive one treatment per year to keep their skin looking refreshed and young.
---
BBL™
BEFORE/AFTER
Two months Post 5 Treatments
Courtesy of Melody Dwyer, M.D.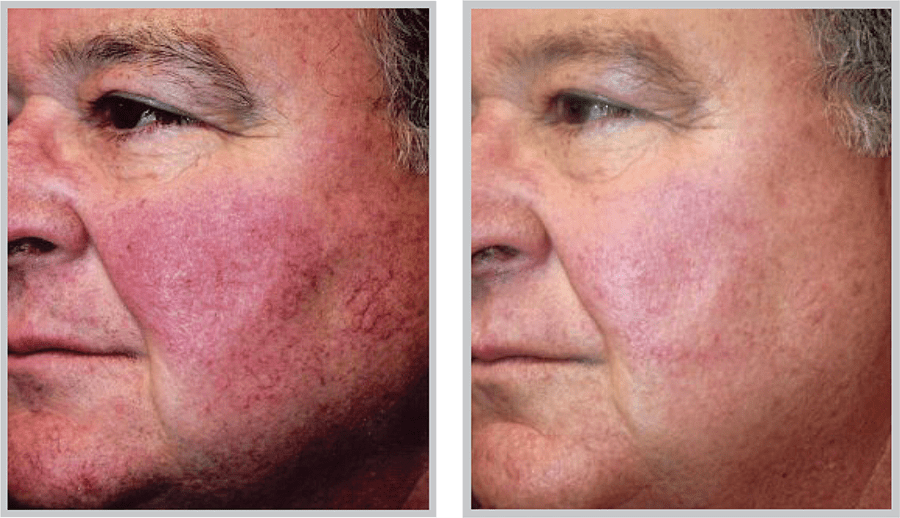 BBL™
BEFORE/AFTER
Two weeks Post 2 Treatments
Courtesy of Laura Brougher, RN

---
If you are interested in learning more about Forever Young BBL™ or would like to set up a consultation, contact Dr. Louis Bonaldi today at 775.828.7400.