Injectables
JUVÉDERM®
---
Men and women experience the formation of fine lines, wrinkles, thinning skin, and facial volume loss as a result of genetics, aging, gravity, and sun damage. JUVÉDERM® is a non-surgical injectable gel that instantly adds volume to aging facial skin by restoring and enhancing hydration. JUVÉDERM® offers subtle or significant improvements in the appearance of aging facial tissues so that natural contours and youthfulness shine through.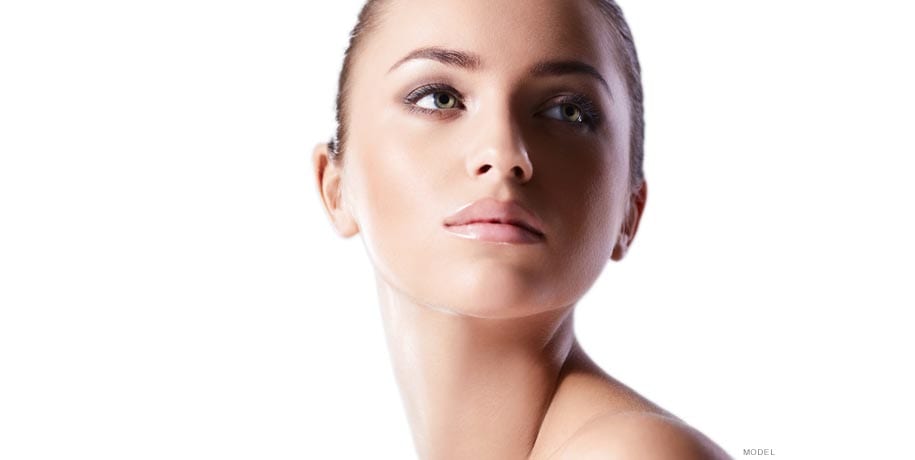 Benefits
---
Allows for subtle or dramatic enhancement
Treats a variety of aging concerns
Provides immediate results
Offers the non-surgical correction of common aging concerns
Requires no downtime
Candidates
---
JUVÉDERM® products are appropriate for individuals who are dissatisfied with their aging appearance but are not ready or do not feel as though they need surgery. Candidates for JUVÉDERM® are healthy, non-smoking adults that have realistic expectations of their results. Those interested in JUVÉDERM® wish to improve the appearance of static lines (the wrinkles present when your face is at rest) including:
Fine lines in the middle and lower regions of your face
Nasolabial folds
Marionette lines
Laugh lines
Jowls
Smoker's lines
Thinning lips
Hollowed cheeks
Your JUVÉDERM® Procedure
---
JUVÉDERM® is the most widely used collection of hyaluronic acid dermal fillers. Hyaluronic acid (HA) is a substance produced by the body that maintains volume by attracting water to the area. HA fillers work much in the same way; they hydrate and plump the skin for healthy fullness. JUVÉDERM® injections are administered by our registered nurse and take around 45 minutes to complete. This injection is performed with a topical anesthetic to ensure a safe and painless treatment. The JUVÉDERM® family offers many injectables that target and treat various aging concerns. Your treatment may involve one or several of these products.
JUVÉDERM® XC and JUVÉDERM VOLLURE™ XC
Our bodies produce less collagen and natural hyaluronic acid with age. This leads to the formation of fine lines, wrinkles, and facial folds.  JUVÉDERM® XC and JUVÉDERM VOLLURE™ XC improve the appearance of wrinkles around the nose and mouth, such as nasolabial folds, by returning the volume to the area.
JUVÉDERM® Ultra
JUVÉDERM® Ultra offers subtle improvement for superficial wrinkles such as lines around the lips and nasolabial folds. This product has a smoother consistency than other JUVÉDERM® products, which allows it to spread smoothly for natural-looking results. This injectable can also be used to provide greater fullness to the lips.
JUVÉDERM® Ultra Plus
JUVÉDERM® Ultra Plus treats all of the areas that JUVÉDERM® Ultra does but can also treat deeper and more severe lines and wrinkles. This injectable is ideal for deep nasolabial folds and smile lines.
JUVÉDERM VOLBELLA® XC
JUVÉDERM VOLBELLA® XC is approved to add fullness to thinning or naturally thin lips. This injectable provides subtle or dramatic enhancement to the lips and minimizes the appearance of lip lines.
JUVÉDERM VOLUMA® XC
JUVÉDERM VOLUMA® XC restores volume to the cheek area. The cheeks are one of the most prominent facial areas to show the loss of volume. This occurs when the tissues in the midface lose their elasticity and begin to fall towards the jawline, creating jowls. JUVÉDERM VOLUMA® XC returns the volume to the cheek area to create a lifted, fuller, and more youthful midface. JUVÉDERM VOLUMA® XC has a dense consistency that allows it to augment facial features while still providing smooth and natural-looking results.
Recovery and Results
---
JUVÉDERM® injections are non-surgical, non-invasive treatments that only require a topical anesthetic. Patients experience little pain from these injections and can drive themselves home or back to work following the procedure. While there is no downtime or extended recovery period, many patients experience minor bruising, swelling, redness, tenderness, or bumps in the injection site that can last up to seven days. Cold compresses and over-the-counter pain medication like TYLENOL® control any discomfort.
After treatment with JUVÉDERM®, patients instantly experience smoother skin with fewer wrinkles. Results continue to improve over the following days and weeks. This treatment is effective for six months to two years, depending on the formulation used. Injections can be repeated as needed to maintain and enhance your youthful, smooth contours.
To learn more about JUVÉDERM® products, or if you think JUVÉDERM® is right for you, contact Dr. Bonaldi by calling (775) 828-7400 or by filling out our online contact form.