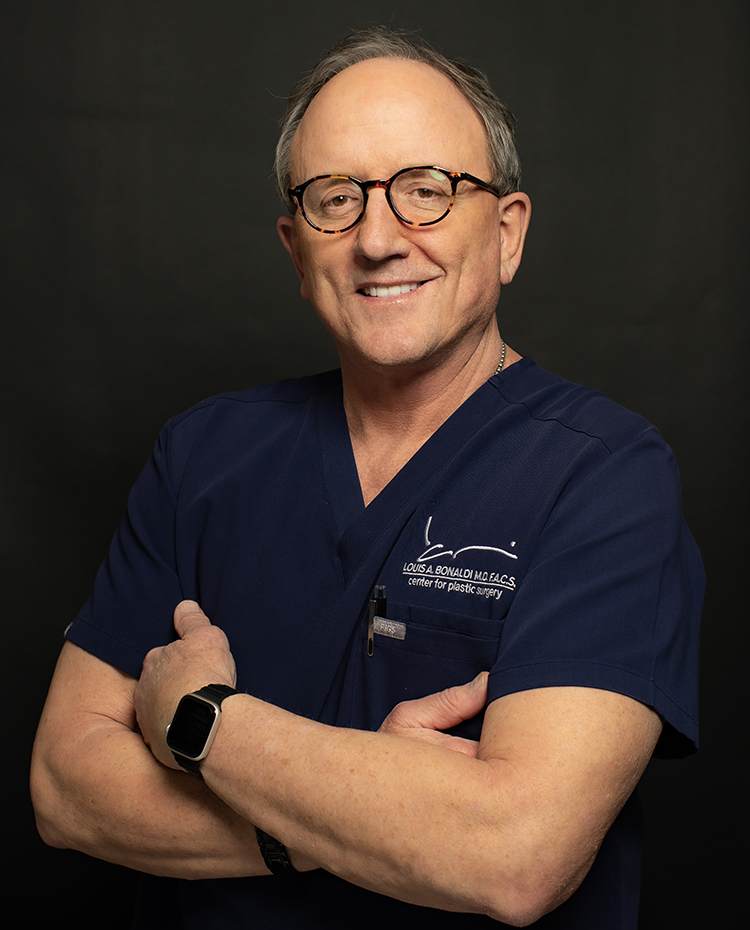 The Surgeon
Louis Bonaldi, MD, FACS
---
Dr. Louis Bonaldi, head of Bonaldi Aesthetics, is a nationally awarded, board-certified plastic surgeon with over 30 years of experience in plastic and reconstructive surgery. With a humble, gentle, and artistic approach, Dr. Bonaldi sets himself apart from the pack with not just knowledge and technical skill, but with his soft-spoken and caring attitude towards all of his patients.
He is an artistic perfectionist with both the medical training and hands-on experience to handle any complication that may arise. In addition to his technical skill, Dr. Bonaldi has completed advanced training in both reconstructive and microsurgery, an elite accomplishment shared with few other doctors nationwide.
Practicing in Reno, Nevada, Dr. Bonaldi performs 15 times the national average of facelifts per year and takes on even the most complex of cases with exceptional finesse and care. His proudest moment as a surgeon came in the facial jaw reconstruction of a post-cancer patient. Combining time-tested techniques with his modern knowledge and experience, Dr. Bonaldi finds pride in his ability to provide his patients with amazing, life-changing results.
Why Choose Dr. Bonaldi?
---
An Artistic Eye
An Artistic Eye
Dr. Bonaldi's background as a painter and concert pianist, who has performed at the world-famous Carnegie Hall, gives him a unique perspective when it comes to cosmetic surgery. With his artistic eye, Dr. Bonaldi understands that there is more to beauty than measurements and numbers, and his inherent creativeness gives him an edge over other surgeons who only look at plastic surgery from a technical side. Plastic surgery is just as much about art as it is about science. Dr. Bonaldi's keen eye for beauty allows him to determine what should be done and how these procedures should be performed to reach the ideal results.
Dedication to Natural and
Balanced Results
Dedication to Natural and Balanced Results
Dr. Bonaldi's philosophy revolves around his belief that the most desirable results are those that are both natural-looking and well-balanced. With his artistic and technical abilities, Dr. Bonaldi goes to great lengths to ensure that your natural beauty is highlighted and enhanced but never entirely altered.
A Gentle Approach
A Gentle Approach
Dr. Bonaldi's manner is just as unique as his background. Being both modest and humble, unusual characteristics for surgeons, Dr. Bonaldi always puts the needs, emotions, cares, and desires of his patients first. He understands the emotional and physical commitment of plastic surgery, and his gentle and caring approach will not only give you ease but will also allow you to leave feeling like a close friend.
Professional Achievements
---
Education
Received a Bachelors of Science from the University of Nevada, Reno in 1975
Earned a Medical Degree from the Tufts University School of Medicine in 1979
Held an Internship at the University of California, San Diego in General Surgery from 1979-1980
Completed a Research Fellowship with the University of California, San Diego in 1983 and a Plastic and Reconstructive Surgery Fellowship from the University of California, San Diego from 1985-1987
Completed a Microsurgical Fellowship at the Royal Melbourne Hospital in Australia in 1987
Was an Assistant Clinical Professor of Surgery at the University of California, San Diego from 1987-1989
Board Certification and Affiliations
Dr. Bonaldi has been board certified by the American Board of Plastic Surgery since 1991
Dr. Bonaldi has been an Assistant Clinical Professor of Surgery at the University of Nevada, Reno since 1991
Memberships
American Society for Aesthetic Plastic Surgery (ASAPS)
American Society of Plastic Surgeons (ASPS)
American College of Surgeons (ACS)
Nevada State Medical Association
Awards and Recognitions
Best Doctors in America Award: 1999-2012
Leading Health Professionals of the World: 2010, 2012
University of Nevada Alumni Association Service Award: 2011
Dean's Outstanding Alumnus Award, University of Nevada School of Medicine: 2010
Best Plastic Surgeon, Reno News and Review: 2009
Health Care Hero Award, Nevada Business Weekly: 2009
Best Plastic Surgeon in Nevada, Nevada Magazine: 1995
Chairman's Prize for Outstanding Resident: 1985, 1987
Contact Information
Schedule Your Visit
---
We are always happy to hear from you and to answer any questions or address any concerns you may have. Our goal is to have informed, relaxed, satisfied patients, and we're here to help in any way possible.
Bonaldi Aesthetics
Plastic Surgery & Med Spa
6630 South McCarran Blvd. Suite B20
Reno, Nevada 89509
(775) 828-7400
---
Schedule a Consultation