Your Most Frequently Asked Questions About Genius® RF Microneedling
Posted October 03, 2022 in Microneedling
3 Minute Read:
Lutronic Genius® RF Microneedling provides advanced collagen induction therapy by combining radiofrequency (RF) energy with microneedling technology to deliver faster, more dramatic improvements to the skin.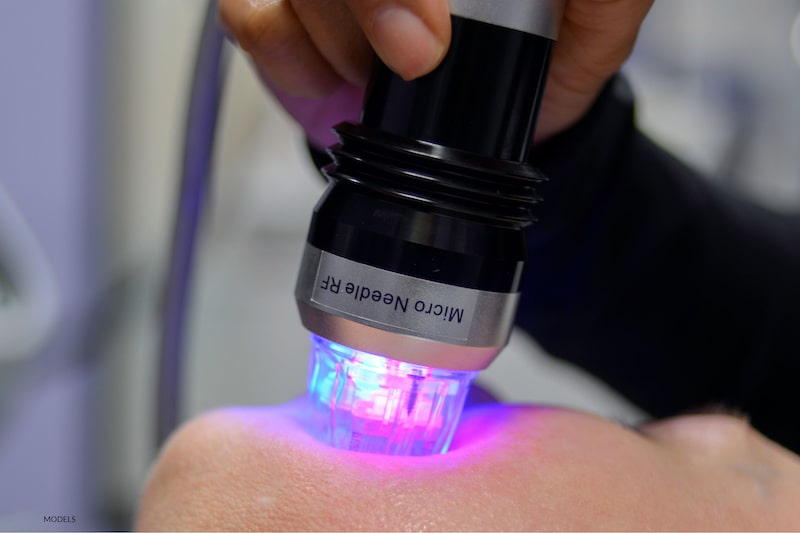 Learn all about this innovative device and whether it might be the right skin treatment for you with the following FAQs.
How Does Microneedling Work?
Microneedling creates tiny punctures in the skin's surface. These microwounds stimulate the body's natural healing response and encourage new elastin and collagen growth, providing younger-looking skin.
What Makes Genius® RF Microneedling Different?
Combining radiofrequency (RF) energy with microneedling increases the ability of the skin to generate cell turnover. This creates more collagen and elastin than with microneedling alone.
Genius® RF Microneedling also incorporates smart technology to analyze each skin area during treatment, adjusting the depth of needle penetration to adapt to different skin textures and aesthetic concerns.
What Is Radiofrequency Energy?
RF energy is also referred to as RF field, RF emission, or RF wave and is a form of energy within the electromagnetic spectrum.
As a cosmetic treatment, this energy can reach into the deep dermal layers, where it heats tissue to stimulate collagen growth for healthier-looking skin.
What's Involved in a Genius® RF Microneedling treatment?
After cleansing your skin, a topical anesthetic is applied — this will make the treatment more comfortable.
The Genius® RF Microneedling device will penetrate your skin anywhere from 0.3 mm to 3.5 mm, pausing to deliver the heat into the tissues. This process is used over the entire treatment area twice or three times.
What Skin Conditions Can Genius® RF Microneedling Treat?
Genius® RF Microneedling can correct several skin concerns, including:
Sagging

Fine lines

Wrinkles

Age spots

Poor skin texture

Large pores

Scarring (including acne scars)

Stretch marks
Can Genius® RF Microneedling Be Used on the Face and Body?
Yes. While this device is typically used on the face, neck, and décolleté, it can also treat the abdomen, arms, legs, and hips.
Who Is a Good Candidate for Genius® RF Microneedling?
Healthy men and women of all skin types and tones can benefit from treatment with Genius® RF Microneedling.
Individuals with skin infections and who are pregnant or breastfeeding should postpone this procedure.
Is Genius® RF Microneedling Painful?
Most patients consider this treatment to be very tolerable; however, because it incorporates heat, some patients do experience discomfort during this treatment and report that it is more uncomfortable than traditional microneedling. While we use a topical anesthetic, we also offer PRO-NOX™ nitrous oxide and oral pain relievers (hydrocodone-acetamin) to ease pain or discomfort.
What Are the
Side-Effects
of Treatment With Genius® RF Microneedling?
Following treatment with Genius® RF Microneedling, you may experience some moderate redness. This will improve over the next three days. Any swelling, bruising, or bleeding that occurs should also subside during this time.
How Many Genius® RF Microneedling Treatments are Recommended?
For ideal results, most individuals will be advised to receive three treatments spaced a month apart.
When Can I Expect to See My
Genius® RF Microneedling Results
?
While changes in your skin's texture and tone may be visible after one Genius® RF Microneedling treatment, more significant improvement will appear in about three months, with your final results taking up to six months. This is due to the time it takes for collagen production to occur.
Genius® RF Microneedling in
Reno, NV
Dr. Louis Bonaldi is a board-certified plastic surgeon offering only the best non-surgical cosmetic treatments, like Genius® RF Microneedling, at his Reno, Nevada, practice.
Dr. Bonaldi also offers PRP Microneedling and a wide range of cosmetic surgery procedures.
Call our office today at (775) 238-3051 to schedule your Genius® RF Microneedling consultation.