Will Weight Gain Ruin My Breast Implants?
Posted May 16, 2020 in Breast Implants
2 Min Read:
Breast implants are used by many women to increase the size and improve the shape of their breasts. They can be an excellent addition to a woman's body, and if done by a skilled surgeon, can rejuvenate the breasts and reclaim the individual's youthful physique and confidence. That said, it is important to note that one of the keys to long-term breast augmentation results is maintaining a stable weight.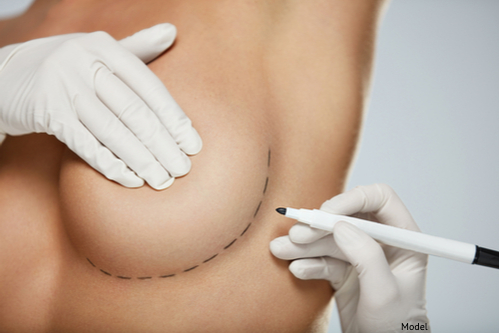 Weight Changes and Implants
This raises the question as to how weight gain can impact on your implants, considering most people's bodies change as they get older. The truth is that weight gain or loss won't have a direct impact on the actual breast implants; however, it may affect how your breasts look.
Weight gain and loss are inevitable, especially as you age. Whenever you gain weight or lose weight, your skin will respond, leading to skin elasticity issues and the drooping and sagging of the breasts. Constant weight gain and weight loss over time will, therefore, impact the way that an implant looks in the breast.
How Does Weight Gain the Size and Shape of Your Breasts?
Putting on a few pounds when you have breast implants is unlikely to cause drastic changes in your breasts. However, significant weight gain can push the implants in different directions, causing an unnatural/less-than-desirable result.
While the implant's integrity remains unaffected, significant weight gain leads to a change in the overall shape, size, symmetry, and texture of the breasts. For example, if a woman gains a lot of weight, she may experience stretching of the skin around the breasts or gain additional breast tissue, resulting in an unflattering look.
The extent to which weight gain will cause changes to the appearance of your breasts will vary from patient to patient, depending on the patient's initial weight, the rate at which they've gained, and their increase in body fat percentage.
So, if you're planning any significant weight changes following your breast augmentation, talk to your plastic surgeon about how weight gain or loss could potentially affect the outcome of your surgery. Generally, it is recommended to reach a stable weight before undergoing a breast augmentation procedure.
Is an Implant Revision Surgery Necessary?
Many women will experience significant body changes due to weight fluctuations (with age or pregnancy). Whether you are experiencing a loss of volume and sagging of breasts or the shifting of the implant following weight loss/gain, implant revision surgery can adjust the size and placement of the implants to correct these issues and help regain a youthful breast shape.
Interested in Learning More?
If you are unhappy with how your implants look after a weight gain, do not hesitate to schedule a consultation with Dr. Bonaldi by calling his Reno, Nevada, office at (775) 238-3051 or by filling out our online contact form.