Upgrade Your Skin Care Routine for 2022!
Posted February 15, 2022 in Skincare
3 Minute Read:
How are you doing with those New Year's resolutions? Did you make any?
No worries — it's never too late to turn a new leaf, and when it comes to taking proper care of your skin, it's never too early to start.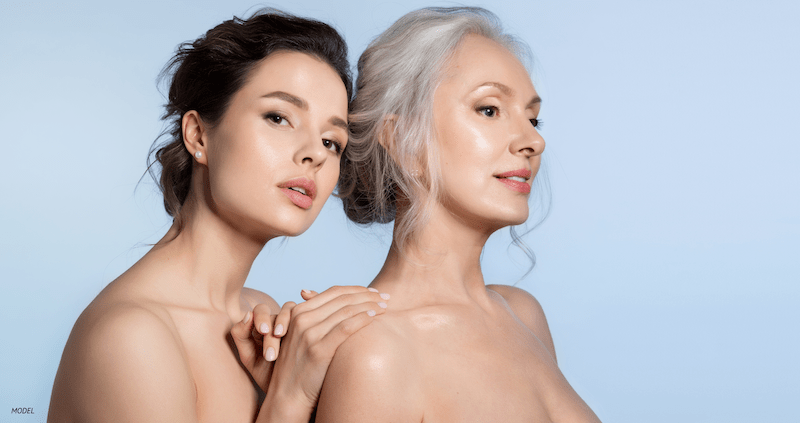 No matter your age, if you want to improve or maintain the skin on your face, it makes sense to use the most high-quality skin care products available.
Is It Time to Throw Away Your Old
Creams
and
Lotions
?
Most consumer skin care brands do a good job of keeping your skin moisturized, and that's important. However, if you are trying to address acne, sun damage, or signs of aging, or you merely desire a brighter complexion, you might want to look into medical-grade skin care products.
Also, be sure to check the expiration dates on all your skin care products. While using them may not cause harm, the ingredients break down over time and lose their effectiveness.
What Are the Advantages of Medical-Grade Skin Care Products?
Lotions, creams, gels, and serums come in many different price ranges, and unless they are formulated with scientifically tested, medical-grade ingredients, you can expect similar results from most of them.
Simply put, professional products endorsed by cosmetic surgeons and dermatologists provide the most protection and produce far better results than those available at the drugstore or beauty supply shop.
These anti-aging and preventative products can effectively:
Brighten a dull complexion

Protect aging skin

Minimize the

appearance of lines and wrinkles

Address hyperpigmentation

Improve skin texture

and minimize the visibility of acne

Smooth skin damaged by the sun

Preserve and enhance the effects of

professional skin care procedures
4 Highly Effective Medical-Grade Skin Care Products
Where to Find Medical Grade Skin Care Products
If you want plastic surgeon-approved, medical-grade skin care products, you're not going to find them at your local cosmetic store. These professional-strength solutions are only carried by dermatologists, cosmetic surgeons, and medical spas.
Want to Learn More Medical-Grade Skin Care Products in
Reno
?
Dr. Louis A. Bonaldi provides these advanced skin care brands at his Reno plastic surgery practice, and his friendly staff is happy to answer any questions you may have.
Call us today at (775) 828-7400 or fill out our online form to find the right medical-grade skin care product for you.