Will My Facelift Scars Be Noticeable With a Receding Hairline?
Posted February 26, 2020 in Facelift
2 Min Read
It might be comforting to know we will all go through facial aging at some point in our lives. Thinning features, crow's feet, sagging jowls, and other types of aging are entirely natural, even if they keep us from our once youthful and refreshed face. Thanks to advancements in facelift surgery, leading surgeons like Dr. Bonaldi can slow down the clock and provide patients with new self-confidence and elegance.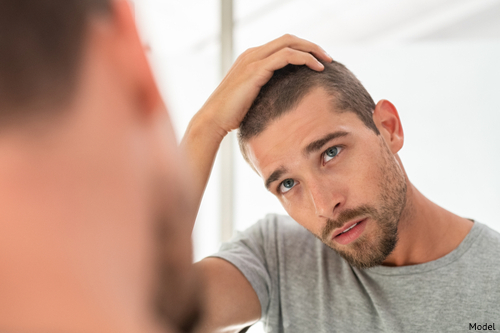 But what happens when other parts of our body begin to age, like our hairline? Those acquainted with the typical facelift procedure know that incisions are hidden within the hairline to make scarring inconspicuous.
So, how visible are your scars once your hairline begins to recede?
What might seem like a chink in the facelift armor is actually a common consideration that most qualified surgeons take into account. With proper placement of incisions, most surgeons can ensure that receding hairlines are as small of a concern as possible.
But if you are still concerned about a receding hairline, here are a few ways you can minimize the appearance of facelift scars:
Stay Out of the Sun
Providing your skin with the protection it needs to withstand prolonged exposure to the sun allows the collagen of your scar area to heal and take on more homogenous skin pigment.
Ask your dermatologist or plastic surgeon for recommended sunscreen, ideally, one that is broad-spectrum, and cover your incisions with hats whenever possible.
Have a Little Patience
Unfortunately, it is impossible to perform facelift surgery without leaving any scar formation. Nonetheless, the majority of scars that occur during facelifts are minimal and will fade more and more over time. They are most prominent during the first few weeks of your recovery, but the scars should be imperceptible several months after your treatment.
Under Dr. Louis Bonaldi's involved and perfection-oriented care, expect to have your incision placed in the most undetectable area possible. Even if you have a receding hairline, you should feel comforted in knowing that Dr. Bonaldi will take this into account when you begin your healing process.
Want to Learn More About Facelift Scars in Reno, Nevada?
If you want to learn more about your facelift recovery, contact Dr. Louis Bonaldi by calling (775) 238-3051 or by filling out our contact form.