What Is the Best Bra After Breast Enhancement Surgery?
Posted October 13, 2020 in Breast Augmentation
2 Minute Read:
Undergoing breast enhancement surgery, such as breast augmentation surgery, breast reduction surgery, and breast lift, is an investment. After all the money and time you put into achieving your perfect look, you want your results to last and stay looking beautiful. A supportive bra can help maintain breast youthfulness by preventing premature sagging.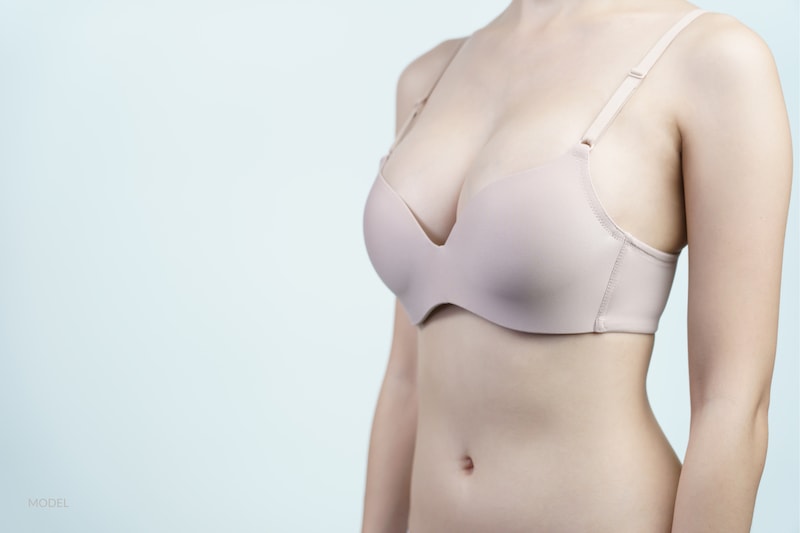 It is important to choose the right bra to wear after surgery to ensure your results will not be altered. However, choosing the best bra can be overwhelming, and you may not know what to look for. Follow these instructions to help you determine what to look for when choosing a bra after your breast enhancement surgery.
1. Choose the Right Fit
When choosing the best bra to maintain your breast enhancement results, a bra that fits perfectly is your best bet. You need a bra that is not too tight but not too loose.
The best indicator of whether or not your bra is the right fit is how it feels. If the bra is too tight, and you are experiencing discomfort, you probably need to get a bigger size. There should be a little room between the bra and your breasts so that your breasts have space to heal properly while still being protected and supported. If your bra feels too loose, you may not be getting the support you need to maintain your results. Your bra should feel snug but not too tight to where it is uncomfortable.
2. Avoid Wires
Many women choose to wear a bra with an underwire because of the support they provide. However, a bra with an underwire can cause discomfort and pain for someone who just underwent breast enhancement surgery.
Immediately after surgery, your breasts will be sore and tender. The wires can irritate your incision sites, puncture your skin, and cause infection. A sports bra or compression bra is recommended while your breasts are healing to prevent any damage. Bras with underwires should be avoided for at least six to eight weeks after surgery to prevent damage to your new breasts.
3. Choose a Supportive Bra
Natural aging can cause breasts to sag. Sagging breasts is one of the main reasons women undergo breast enhancement surgery. A supportive bra can be useful for all women, whether they underwent surgery or not, to prevent sagging. However, when you undergo breast enhancement surgery, you spend a lot of money and time to get the results you desire. You wouldn't want sagging breasts to alter those results over time. A supportive bra can help keep your breasts in place and prevent sagging.
Interested in Learning More?
If you are interested in learning more about breast enhancement surgery and how to maintain your results, feel free to contact our office at 775-828-7400 or fill out our online contact form.