Did You Choose a Sleeveless Wedding Dress? Consider an Arm Lift Before Then!
Posted May 02, 2022 in Arm Lift
3 Minute Read: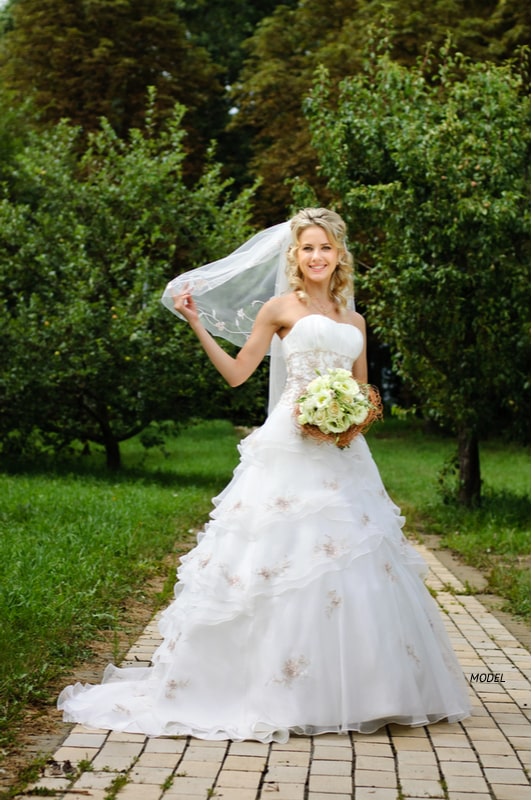 If you are like many women, you have been planning your wedding day since you were a little girl.
The flowers, the cake, the perfect partner waiting to exchange your I-do's with, and, of course, the dress!
All of your family and friends will see you walking down the aisle in your beautiful dress, which means all eyes will be on you.
For many brides-to-be, that perfect wedding dress is sleeveless, which is beautiful, but can also be revealing, especially if your arms have any flab or excess skin on them.
While many women buy a sleeveless wedding dress for their big day thinking that they will be able to shed the excess arm fat and tighten the skin naturally through exercise, it is important to understand that the arms are one of the most difficult areas of the body to tone.
Additionally, exercising can easily become missed in the hectic pre-wedding day scramble.
The last thing you want to do is stand at the top of the aisle or out on the dance floor, regretting your choice of a sleeveless gown. However, there is a practical and effective solution to make sure that you don't have these regrets about your arms: plastic surgery!
An arm lift can help give you the toned arms you want for your big day!
What Exactly Is an Arm Lift?
Arm lift surgery (also known as brachioplasty) is a cosmetic surgery procedure in which loose and sagging skin in the underside of the upper arm (in the tricep area) is corrected. Additionally, excess fat is reduced and the underlying arm tissue is tightened and repositioned to give you a more defined and contoured arm. This surgery is trusted and effective. In fact, almost 15,000 arm lift procedures were performed in 2020.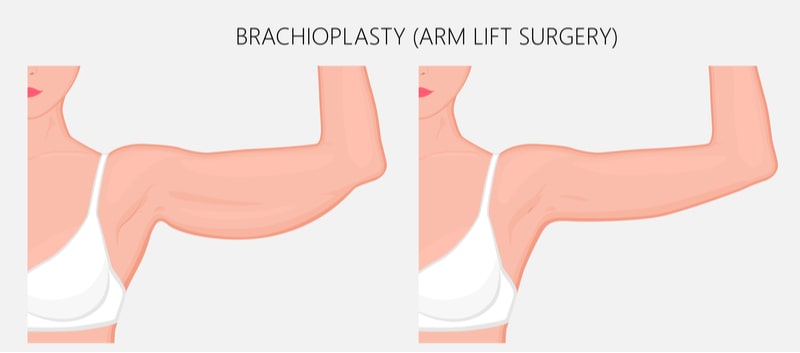 This procedure is completed under general anesthesia so that you won't feel any pain or discomfort during the surgery.
After the anesthesia has been administered, Dr. Bonaldi will make the necessary incisions in the back or inner portion of your upper arms. The length of the incisions depends on the extent of correction needed.

Dr. Bonaldi will then remove

subcutaneous fat

from your arms, either manually or

with the aid of

liposuction

.

He will then reposition and tighten underlying tissue in your arms before removing any excess skin.

Lastly, the remaining skin will be tightened and the incisions closed.
Most arm lift surgeries take around 90 minutes to complete.
What Will My Arm Lift Recovery Involve?
Arm lift surgery recovery is relatively short when compared to other plastic surgery procedures.
You will have some bruising and swelling in the surgical areas, though this will dissipate within a week or two.
Most patients are able to return to work and light exercise (including lifting light weight) after two weeks. After three weeks, most patients are able to return to their normal daily activities.
Once the swelling has dissipated, you will have arms that are not bogged down by sagging, drooping skin.
You will no longer have to worry about having the dreaded "bat wings," but instead, you'll be able to have more defined arms you've dreamed of having for your wedding day.
Won't There Be Scars After My Arm Lift?
One of the most common concerns for patients undergoing plastic surgery is the appearance of scars. Arm lift surgery is an invasive surgery, which means that there will be scars of various lengths from the incisions.
However, Dr. Bonaldi is able to hide these incisions in the underside of the arm, which means that your scars will not be easily visible in your sleeveless wedding dress or out of it!
Interested in an Arm Lift in Reno?
If you are interested in arm lift surgery in Reno, then make sure to schedule a consultation with Dr. Bonaldi by calling (775) 238-3051. You may also fill out our online contact form for more information.